Spiritual & Cultural Retreat Tours

Join us for the most magical journey of your life. We offer optimized itineraries, developed from over more than 30 years of experience guiding tours in Peru and throughout the world.
Personal Tours
These tours are offered to any of our guests and a wide variety of packages are available.
Group
Tours
These tours are available only while part of a group and are ideal for Yoga, Meditation, Wellness, and Connection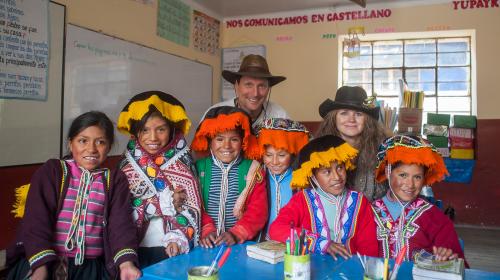 Magical Journeys
Local and International journeys include Machu Picchu, Cusco, Sacred Valley, India, and Africa with time for spiritual and cultural activities
Machu Picchu and Sacred Valley Journeys
Our Peru tours include Machu Picchu, Cusco, and the Sacred Valley, each with time for spiritual and cultural activities.
We specialize in arranging programs for large and small groups, as well as conducting scheduled tour programs that any individual can join.
For the group leader who wishes to conduct a retreat in their own specialty, while offering their participants the opportunity to enjoy the beauty and energy of some of the planet's most powerful places, we make the experience seamless. During your program, your participants will come into personal contact with the Andean people and learn about their history, culture, customs, ceremonies, beliefs, and spiritual practices.
We also enjoy arranging similar programs for "friends and family" groups traveling independently.
Our package itineraries are all-inclusive. Whether you are a group leader or a single traveler, you will be freed of all concerns regarding logistics from the time you arrive in Cusco until you leave.
All our retreats are based at Willka T'ika. Our location ensures that travel time between sites is minimized, allowing you to enjoy the sacred sites as well as have plenty of time for your own practices and teaching experiences.

Journey to Cusco, The Sacred Valley, & Machu Picchu
This group program is a fully-inclusive cultural immersion program, offered annually, and is specially designed for those looking for an authentic Sacred Valley experience.
Includes:
Overnight in Cusco with ceremonies, meditation, and visits to Incan ruins
Visit to Machu Picchu, guided tours of sacred sites, and hiking options
Time at Willka T'ika to explore the scenic Sacred Valley, relax in the gardens, or enjoy spa services
Andean teachings and meditation in the Seven Chakra Gardens
Learning the secrets of Incan medicinal plants growing on site
Authentic Q'ero healing ceremonies and offerings to Pachamama
All-level yoga classes in Willka T'ika's spacious, state-of-the-art yoga studios
Accommodation in Willka T'ika's artistically-designed luxury and garden rooms
Organic vegetarian farm-to-table meals at Willka T'ika
Included optional activities are:
Guided meditations in the Seven Chakra Gardens
Nearby walks in the neighboring Quechua community
Visit to an Andean mountain school (to support the Willka T'ika Children's Foundation)
Coca leaf reading with an authentic Andean healer
Pisaq ruins, optional hike, lunch, and shopping in the famous market
Join one of the most authentic, luxurious, comprehensive, and affordable journeys available. Previous guests will tell you that no other retreat center has the energy of Willka T'ika and offers a fully-inclusive, cultural, spiritual, and truly magical journey.
Private Family & Friends Small Group Tours
Willka T'ika offers exclusive private cultural tours and wellness programs for small family gatherings or groups of solo travelers. Speak to our USA Reservations Office and let them know what you are looking for. They will be delighted to design a special program focusing on your needs and interests.
Our meticulously planned programs are based at Willka T'ika and visit Cusco, Pisaq, Sacred Valley sites, and Machu Picchu, and we are happy to customize them to your needs. Tour programs include safe and reliable group transport, an excellent professional guide who accompanies the group on all outings to the sacred sites, delicious organic vegetarian meals at Willka T'ika, one or two nights in Cusco, and a full day or overnight at Machu Picchu.
Choose which activities best fit the interests and ages of your group, and whether you would like garden or luxury accommodations at Willka T'ika. Leave the logistics to us: your customized program will include tourist train and entrance tickets to Machu Picchu and all the ancient sites.
Enjoy traditional Andean Ceremonies, a coca-leaf reading, and a tour of the Seven Chakra Gardens. Other options include hiking, guided walking tours of the traditional local markets, and a visit to one of the Quechua mountain community schools, where an ayni (reciprocal exchange) project is available. You can also include nearby activities such as mountain biking, horseback riding, ziplining, or river rafting adventures.
Relax and rejuvenate with our full Andean spa services, as well as our two yoga studios, where we can arrange a reputable local yoga teacher to teach sessions geared to your group's skill and interest level.
Join us at Willka T'ika for your journey to the ancient sites and fascinating culture of Peru, for the perfect, cost-effective Peru experience.

Magical Journey's International Offerings
Recognizing that there was much for all of us to learn from people with other world views to our own, Magical Journey using a similar approach to that of its Peru Journeys, has expanded its offerings to the Himalayan Region of Nepal, Tibet and Bhutan; the Indian Subcontinent and Southern Africa.
The credo that underlies all our Journeys is:
It is not just the places that you visit, but the experiences you have and what you learn from the people that you meet along the way that make a Journey Magical.
Magical Journey in Southern Africa Since 1998
After several years in which we conducted tours to South Africa and Eastern Botswana, in 2012 we conducted a Safari to Gorongoro, the Serengeti and the Gorilllas in Rwanda.
In 2013, we conducted a Safari which started out at the Victoria Falls in Zambia and then went on to the Okavango region of Botswana.
Both these Safaris were exceptional by any standard. It seemed that our groups had exceptional 'Bush Karma' in that in both cases, we participated in experiences that even those who have lived their lives in these regions have not had the privilege of experiencing.
We are also pleased to share that the Namibian Journey in November 2014 concluded with all participants enthusiastic about their unique experience—an exceptional safari and a very special opportunity for avid photographers to glory in the exceptional light and colours that Namibia offers. We traveled from Bush into desert areas to see the desert rhino, along the coast to view seal colonies, out to sea to sail with dolphins and onto the world's largest sand dunes. Damaraland is a photographers dream with rugged desert terrain reflecting light and colours unmatched anywhere.
In 2017, we took a Magical Journey to Victoria Falls and the Okavango Delta, which was like no other!
Contact Mark to ensure you receive the information about these tours as soon as we publish them.
Magical Journey to South India
"India is everything you've heard and nothing you can imagine."
January 21 – February 7, 2020
Featuring the finest of South india – Tamil Nadu and Kerala
"Mind, Body, Spirit: A Global Connection" with Carol Cumes and Mark Hennessy
"We are once again returning to lead a tour to South India because we never tire of visiting that fascinating region of a fascinating country. We have found that each of our visits has has left us spiritually and culturally enriched with our hearts and minds just that little more open to the treasures that diversity brings to provide texture and colour to our lives. Each visit has formed into a unique memory that lives close to our hearts, and we once again invite you to join us on this visit so that you too can experience the stimulation and delights of Tamil Nadu and Kerala." Carol Cumes and Mark Hennessy
An Overview of the Journey:
We will meet together on January the 21st in Chennai (formerly known as Madras) and be introduced to each other and meet our guide who has been specially chosen for the ability to convey to us the knowledge and wisdom that lies in the delightful legends, literature and stories that are the bedrock of the Hindu way of life, evidence of which we will see everywhere we travel. It lives in the friendliness and humour of the people who we will encounter, people who believe in 'connectedness' being a fundamental value that must be the foundation of a life lived fully.Their connection to nature, animals, and through ritual, the energies that shape our being and the universe of which we are part, is extended happily to you as a visitor.
From Chennai, we will travel along the coast in Tamil Nadu and visit magnificent, ancient stone-carved temples at Mahabalipurum. Where you will first enjoy the legends and mythology of India as depicted in carved friezes on huge rocks and the walls of caves. You will also see examples of the evolution of Indian temple architecture.
After the day's adventures, the group will relax in the comfort of our luxury hotel, where you can swim in the famous mile-long pool overlooking the Bay of Bengal. This will be a chance to shake off the last vestiges of travel fatigue.
Here you will also start yet another adventure that will be part of your memories – the culinary adventure into the variety, freshness, flavours and textures of South Indian food.
We will continue our route South to Puducherry (formerly Pondicherry a French Enclave on Eastern Coast of the sub-continent.) The French influence has clearly left its mark here. For those who enjoy shopping, Puducherry is a delight as will every other place we visit in India be. The range of goods that are available seems almost boundless.
We will also likely visit the Ashram of two of the most revered Spiritual figures of the 20th Century Sri Aurobinda and the 'Mother'.
And so we will continue our journey through a variety of scenery, through trim tea and rubber plantations, across 'Ghats' – mountain ranges that divide different regions visiting herb gardens along the way heading for our final destination Kochi (formerly Cochin) the place where East first met West by sea with the arrival of Vasco Da Gama who had made his way via the route around the South of Africa in 1498.
Along the way you will visit magnificent temples of great architectural achievement. The decorations and statuary will introduce you to the rich tapestry of legend and spiritual mythology that is the background to life in India. If you love stories then India is a treasure trove of delight.
You will see how the vibrant living temples are centres of community. There is no better examples of this than the great Meenakshi Temple in Madurai. It is so full of life that one doesn't know where to look from one moment to the next. The whole atmosphere is so different to what we of western oriented cultures associate with the word 'temple' that one realises that we actually need a different word to describe them.
The science of Ayurvedic medicine has its home here and you have not had your body brought fully to life until you have given it the opportunity to be pampered by the practitioners of Ayurvedic massage.
Kathakali Theatre has its home in Kerala. To watch a performer of this art tell a story from the legends of India with the use of gestures, dance moves and facial expressions while a musician sings and chants the narrative is an experience unlike any other in the world of theatre.
'India dances' – and the discipline, grace and vibrancy of Indian dance is a delight for anyone who appreciates the art of movement as an expression and means of complete communication to more than our verbal senses.
If there is one word that we can use to describe what we will encounter it is 'vibrancy'. This has been an overview. There is so much more in the itinerary and even then we will be skimming the surface.
Email Mark for the itinerary and then join us!
Machu Picchu
with Carol Cumes is November 30 – December 7, 2019!
Contact: info@willkatika.com for further details and registration.
We offer you:
Programs for Leaders of Special Interest Groups: Ideal for leaders of groups – generally 8 or more – of any special interest such as Yoga, Dance, Wellness, Art-Photography … who wish to combine a program of activities related to the group interest with a Journey to Machu Picchu program. Because of the location of Willka T'ika Essential Wellness Retreat, there is plenty of time for the interests of the group to be incorporated into the activities while still being able to enjoy the visits and activities that are part of the Magical Journey program. An outline of the itinerary is at Journeys to Machu Picchu – Special Interest groups'
Scheduled 'Journey to Machu Picchu' programs: Led by Carol Cumes and ideal for friends, solo women and men travelers. An outline of the itinerary and scheduled dates is shown at: Journey to Machu Picchu
Programs for 'Family and Friends' Groups: Ideal for small groups – Generally 2-4 – who want to experience the best of Cusco, the Sacred Valley and Machu Picchu in an all-inclusive package tour. An outline of the Itinerary is at: Journeys to Machu Picchu – Family and Friends Groups
All these Journey programs include Machu Picchu, the sites of the Sacred Valley, and the temples and architectural wonders of Cusco.
Your program will follow the successful and well-established itinerary and activities developed and enhanced over many years by Carol Cumes.
Your Journey will be based at Willka T'ika Essential Wellness–an eco-friendly Luxury Retreat located in the heart of the Sacred Valley of the Inka. As you journey through Cusco, the sites of the Sacred Valley and Machu Picchu, you will be accompanied by specially selected English speaking guides who have worked with us for many years and are steeped in the culture and spirituality of the Quechua people of the Andes.
You will gain insight to, and an understanding of, the traditional culture and spiritual traditions of the Quechua people who have lived in the Andes since well before the establishment of the Inkan Empire.
Each program allows time for relaxation, meditation and self-reflection in the beautiful Chakra Gardens of Willka T'ika Essential Wellness, which you will remember as a highlight of your Journey with us.
Contact Vidya for direct assistance to create your Journey program, or to join our next Magical Journey to Machu Picchu with Carol Cumes in December 2019!
Magical Journey to North India:
Regal Rajasthan
Prepare to tap into the true spirit of India. Exploding with vibrancy, color, excitement and wonder, Rajasthan is bold, beautiful and full of romance. Journey back in time and marvel royal residences, ornately decorated havelis, the renowned mansions of rich merchants with beautifully carved facades and courtyards. Sail across glorious lakes reflecting the splendor of their surrounding palaces.
Most of India's major religions are represented here. Marvel at engraved temples, the interiors of exquisitely decorated palaces and magnificent stone forts encompassing entire cities. Tune into Nature's heartbeat in this ancient land in Northern India's sacred temples, forests, desert terrain and rolling sand dunes. During our visits to extraordinarily intricate Jain temples, holy Muslim shrines and Hindu temples of white marble, our expert guide weaves spell-binding stories of the Hindu gods or the Jain vision of the universe.
Most tourists visiting Rajasthan go as far as Jaipur. This program takes you deeper into the heart of Rajasthan where you arrive in romantic desert cities, explore dusty alleys with stunning beautifully carved sandstone buildings and visit feudal villages where forts command spectacular views of camel trains and donkeys floating across the vast picturesque landscape of kingdoms and their surrounding valleys. Along the way, our fabulous Rajasthani guide, who speaks many local dialects, will captivate you with facts that bring these places alive. His in-depth knowledge, story-telling talent and great sense of humor invites you into his beloved world.
Journey through diverse landscapes that embrace vast expanses of desert sand where camel trains and donkeys travel, and tribal men dressed in brilliant traditional turbans and cloth move silently to reach their distant homes. Throughout, you are invited to step off the bus and into the scene, to experience yet another magical bazaar, alley, a village food stand or slice of Rajasthan life. Participants will be offered many opportunities to walk through the countryside, around forts and in small towns each day. Interaction with the local people will bring closer understanding and appreciation of the unique way of life in the region.
Old palace hotels, lodges, and heritage hotels are chosen to enhance your experience, radiating unique atmosphere and cultural charm. Individuals can practice their own yoga, meditation, take advantage of Ayurvedic massages where available, or go for long walks in the late afternoons. Enjoy the contrast of lakes and forests filled with animals in their natural habitat. Gaze at the stars and enjoy the pleasant November evening weather while listening to the transcendental sounds of Indian music.
Mark and I have returned many times to North and South India, and yet once again, we cannot stay away and wish to take you to the very best sites we have seen in Rajasthan. This is indeed a meticulously-planned, journey-of-a-lifetime allowing ample time to fully explore incredible wonders unlike anything else you have seen. –Carol Cumes
MOKSHA ~ REBIRTH IN NORTH INDIA
According to the Vedas, Moksha is one of the four inherent aspects of our soul or essence. Of the four distinct desires—Dharma, Artha, Kama and Moksha— Moksha, the fourth and final desire, expresses the longing for liberation and true freedom. It paves the way for our soul to express itself on earth. Moksha has been the driving force behind the world's spiritual traditions. It is the longing to know the Eternal, which is beyond all limitations, beyond the province of the five senses and even death.
Mark and I invite you to join us for Moksha, our newest and most devotional program, an extraordinary spiritual journey to the birthplaces of three extraordinary faiths—Hinduism, Buddhism, and Sikhism. After acclimating to the time change and enjoying a full day of sightseeing in Delhi, we fly to the holy city of Varanasi, the birthplace of Buddha, and an amazing place of pilgrimage for Hindus. The journey continues to Amritsar and the magnificent Sikh Golden Temple. There is no way to describe the magnificence of this temple and the devotion of the people other than to go there in person. A train takes us through Punjab to the spectacular mountains of Rishikesh, the source of the Ganges and birthplace of Hinduism. The program ends with sheer indulgence in an ayurvedic resort spa overlooking the Ganges.
Friends who have traveled with us in the past to Andrah Pradesh, Tamil Nadu and Kerala in South India, and fabulous Rajasthan in North India, have come to love the spirituality, diversity, fun and magic of our meticulously planned Magical Journeys to India.
After 15 years of traveling throughout India, Mark and I are excited to offer this new MOKSHA option, in addition to our South India and North India Royal Rajasthan journeys—all programs remain unmatched in quality, luxury and variety. Join us in November or December when the weather is at its best. –Carol Cumes
---

"THANK YOU!!! Thank You!!! thank you!!! For creating some fabulous memories of India, and introducing us to a land we would never have visited without your encouragement, planning and invitation. Carol, I can't tell you how much knowing you has enriched my life and created such fabulous, meaningful memories. You open the door to adventure and discovery. You have taken me to places I never would have dreamed of going. And you do it with such care, good intension, and respect, that traveling with others never quite measures up. You are truly a "gift" in my life. Thank you for all you do, and who you are, and that we have some "precious" times together."
Judith and David H. from Sunnyvale, CA
"Hi Mark – We just returned recently from travels — the first trip we've done recently outside a Magical Journey's program — we had a good time but not a "great" time. We both agreed that you've ruined us for "normal" travel. Nothing matches the itinerary and care that you put into your Magical Journey tours. We always return from a Magical Journey adventure thinking "great." Just wanted you to know we were thinking of you."
Phyllis D. Palm Desert, CA
Read exceptional published article in Huffington Post, by Carolina Rogoli, about her recent 2015 Magical Journey experience as a participant on our Moksha program to North India, posted January 2016.