The Quechua name "Willka T'ika" means sacred flower.

Carol Cumes founded Willka T'ika in 1994. Carol writes, "I first visited the Sacred Valley in the '80s and was so captivated by the powerful healing energy that I continued to return year after year. In 1994, I decided to purchase a barren strip of land where Willka T'ika now stands. As a longtime yoga practitioner, I wanted to create a retreat center synergizing Andean culture and cosmology with yoga philosophy and lifestyle. Over the next two decades, I cultivated long term relationships with authentic native healers and knowledgeable local guides. Integrating their authentic expertise, I pioneered and developed our signature 'Journey to Machu Picchu' retreats and uniquely comprehensive program itineraries."
Carol and her team of local Quechua farming neighbors designed and constructed the grounds, guest rooms, gardens, ceremonial spaces, and gathering spots that have become Willka T'ika.
Once the first buildings were completed, Carol began developing the organic gardens. The land was cleared and rocks unearthed by hand. Giant natural boulders were left to decorate the gardens, while smaller stones were used in building construction. Compost heaps turned kitchen waste and garden cuttings into rich soil. Manure was brought on donkey trains from far-off mountain communities.
Adobe mud bricks, which keep rooms warm on cool Andean nights and pleasant during the hot sunny days, were made on-site and baked in the sun alongside wood that was carved into doors, floors, windows, and the original furniture that fills guest cottages today. Giant septic tanks were built, as well as large storage tanks to collect Willka T'ika's weekly allotment of mountain water from the local water cooperative.
Gradually the buildings and gardens took shape and the rock-filled land regained its health. Plants flourished, birds and insects arrived, and nature, with its timeless wisdom, took over. Today butterflies, hummingbirds, and bees can be seen hovering over brilliant flowers throughout the gardens. Dozens of species of birds make the grounds their home.
Willka T'ika is an example of land revitalization made possible through cooperation with and giving back to Nature.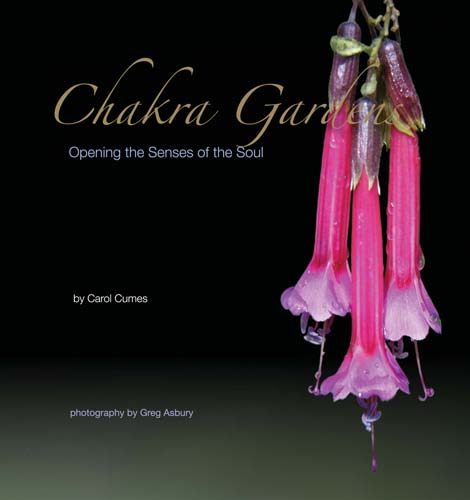 Chakra Gardens
Opening the Sense of the Soul
Carol's award-winning book illustrates the story of the Willka T'ika gardens, with vibrant photographs and Carol's own heartfelt words. Each book purchase supports The Willka T'ika Children's Fund, which provides school materials and more to Andean children and their dedicated teachers in remote areas of the Peruvian Andes.
Winner of 3 awards, including Winner of Independent Publisher's
IPPY Gold Award for Best New Age/Mind Body Spirit Book 2009

Stay Connected
Join our monthly newsletter and stay up-to-date with the latest wellness retreats, hotel specials, and happenings at Willka T'ika and the Sacred Valley.