Professional local therapists offer Willka T'ika guests optional Andean SPA treatments, including massage and facials.
Crystal light therapy sessions and outdoor floral solar baths under the southern skies are also available. Individual spa and healing arts services may be scheduled by appointment upon arrival at Willka T'ika.
Kindly note that services are subject to availability, and that some healing arts and ceremonies are available only to a minimum group size, such as the sweat lodge, a cacao ceremony and sound healing, and require booking in advance of arrival to schedule with a facilitator or shaman. 
Bodywork
Willka T'ika offers a range of therapeutic spa treatments to restore the body.
Massage styles include Andean massage, aromatherapy massage, hot stone massage, and shiatsu.
Rejuvenating Willka T'ika facials use natural products infused with ingredients from our healing gardens. Experience the benefits of a masque suffused with the ancient energy of fruit from our thousand-year-old lucuma tree, or with honey made by bees visiting Willka T'ika's flowers.
Reflexology treatments revitalize the body through pressure applied to reflex zones on the feet. Our reflexology treatments incorporate the healing benefits of salt from the nearby Maras salt farms, or traditional aromatherapy essential oils.
Solar Baths
Experience an outdoor floral bath under a velvet night sky bejeweled with the Milky Way.
The unique solar baths, created from stone and set in secluded garden spots, are heated by the sun during the day. At night the water is infused with flowers, medicinal herbs, and medicinal Maras salt. Enjoy a luxurious soak under the stars before bed.
Yoga
Catering to all levels and interests of yoga, our professional yoga teachers offer new and classic forms of yoga, adapted to your group's needs (minimum group size is only 4). Yoga classes are perfect to help balance out your hiking adventures or get you moving after a day of relaxation, and are held in one of our beautiful fully equipped yoga studios.
Sound Healing
Sound Ceremonies (or what is commonly known as "Sound Healing") are offered for a minimum group size of 4. This healing ceremony has the power to penetrate our habitual thought patterns, permitting us to reduce our mental activity and reach a profound state of relaxation. With a variety of beautiful instruments from around the world, our talented musician will help guests balance mental and physical equilibrium and reach a place of internal harmony.
Cacao Ceremony
Cacao is a sacred "teacher" plant that helps us open our hearts and connect with our higher self. This is a group ceremony offered to a minimum group of 4. The delicious, chocolate beverage is prepared with love by our staff and served in a musical, meditative ceremony by a shamanic facilitator. The sweetness of this ceremony can cause deep relaxation or animated dancing, or both.
Crystal Light Therapy
Relax and rejuvenate as your energy centers return to balance.
Crystal light therapy combines color, light, quartz crystals, and music to clear and realign the body's chakras. This gentle half-hour treatment encourages healing of the body and mind and leaves you feeling revitalized and refreshed. Follow the session with a cup of fresh herbal tea and quietly sit in one of the Seven Chakra Gardens to maximize and integrate the healing experience.
Sweat Lodge and Plunge Pool
Spend an afternoon with a complete detoxification experience, restoring body and soul while gazing at the stunning Pumahuanca mountains. Groups with a minimum group size of 4, can pre-reserve our homemade Sweat Lodge or Umpina Wasi. After this profound perspiration and inner cleansing, cool off in our medicinal plunge pool or Hampi Yaku. We will infuse your restorative bath with the sacred plant essence of your choice. Our homemade hydrosols include Lavender, Eucalyptus, Muña, Ruda or Molle, all harvested and distilled at Willka T'ika.
Immerse yourself in the relaxing beauty of our guest rooms, yoga studios, meditation spaces, and more, all constructed of natural local materials.
Each of our unique Seven Chakra Gardens contains symbols, shapes, sculptures, colors, and medicinal plants that resonate with one of the classic seven chakras, or energy centers, of the human body.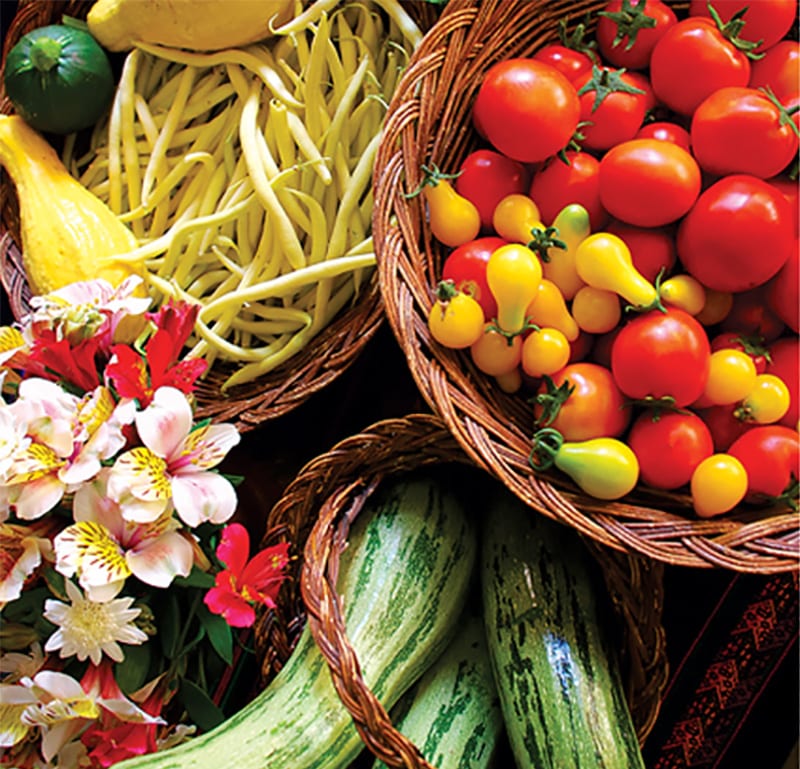 Our vegetarian cuisine is a fusion of Andean flavors, lovingly prepared with organic vegetables and herbs grown in our own gardens, along with unique Andean grains and other fresh local foods.
Experience healing arts unlike anywhere else: floral solar baths, Andean massage, facials made with ingredients from our healing gardens, crystal light therapy, and more.
With deep roots in the Andean culture, beautiful contributions to the site from day one, and dedication to making your experience wonderful, our local Quechua staff are an integral part of Willka T'ika.
Traditional Andean ceremonies, art workshops, Andean music, and hikes or excursions to local cultural sites are just a few of the unique experiences you will find at Willka T'ika.
Peru's Sacred Valley
Surrounded by spectacular Andean mountains, Willka T'ika is located in the Sacred Valley of the Inca, one of the most spiritually energized and beautiful places on Earth. Book Your Retreat
Our friendly reservations manager, Vidya Gauci, is happy to assist you with planning and booking your personal (or group's) extraordinary visit to Peru's Sacred Valley and Willka T'ika.