Willka T'ika sits in Peru's Sacred Valley of the Incas, one of the most energetically charged places on Earth — making it the perfect place to unplug and restore your mind, body, and soul. Nestled in the Andes mountains, close to Machu Picchu, one of the Seven Wonders of the World, Willka T'ika invites you to reconnect with Pachamama ("Mother Earth") and discover optimal, holistic health. At Willka T'ika, Peru's premiere retreat, luxury and wellness go hand in hand. Deepen your yoga practice under the shade of our 1000-year-old Lucuma tree. Experience radical self-care with nature-based and restorative spa treatments. Cleanse and nourish yourself with organic, vegetarian, farm-to-table cuisine. Explore ancient ceremonial practices with a traditional Andean healer. Hike among the stunning secrets of the Incan world.
Explore Your Wellness Opportunities…
Fully-Inclusive Essential Wellness Retreat
Join like-minded travelers in a healing experience that calls on Andean traditions. The 7 Day Willka T'ika Essential Wellness Retreat focuses on restoring one chakra each day.
Personalized Wellness Journey
Flexible Individual Retreats, subject to room availability
Design a wellness experience that speaks to your aspirations and needs if your plans do not allow for you to join one of Willka T'ika's 7 Day Essential Wellness retreats.
What Our Guests Are Saying…
"Outstanding…The cuisine, amenities and hospitality are unlike anything you will experience, with guest services tending to our every need. Highly recommend for anyone who wants to experience self-care at its finest."
Josh F.
"From the moment I set foot in Willka T'ika, I knew I was in for something extraordinary. The level of care bestowed upon every corner of this special place is remarkable. The result is a harmonious blend of colors, scents, and textures that create a sensory symphony. A must-visit destination!"
Lucía M.
"With its breathtaking surroundings, genuine hospitality, and nourishing cuisine, this place has become a cornerstone of change in my journey. My deepest gratitude for crafting such a profoundly impactful experience."
Tawnie B
"Exceptional wellness retreat. Willka T'ika is a special place, unparalleled in its beauty, commitment to its guests, and service to the community and people around it."
Lesliee
"Words can never even get close to how amazing this place is! Willka T'ika is the most healing and magnificent retreat I have ever visited."
Brian C.
"Everything about this Wellness Retreat was amazing. A life-changing experience you'll never forget!"
Jessi
"Our trip to Willka Tika was one of the most incredible of our life! The perfect blend of wellness and serenity."
Lorena and John
Willka T'ika Wellness Retreat offers 26 luxurious rooms and suites for guest accommodations. Each Luxury and Garden Room is artfully appointed, has a private entrance and bath, and is nestled amidst the abundant gardens with garden and/or mountain views. Room types include singles, doubles, and triples, with select amenities.
With beautiful views of flowers, lucuma trees and mountains, these intimate rooms are nestled in charming spaces throughout the gardens. Each room is uniquely designed and named for the Andean medicinal plant that grows at its doorstep. Fresh-cut blossoms welcome guests and cozy hot-water bottles warm your bed at night.
These intimate rooms feature two twin beds and access to the lush gardens. The rooms are nestled in charming spaces throughout the gardens with views of the mountains and Willka T'ika's unique flowers and lucuma trees. Each room is uniquely designed and named for the Andean medicinal plant that grows at its doorstep. Fresh-cut blossoms welcome guests and cozy hot-water bottles warm your bed at night.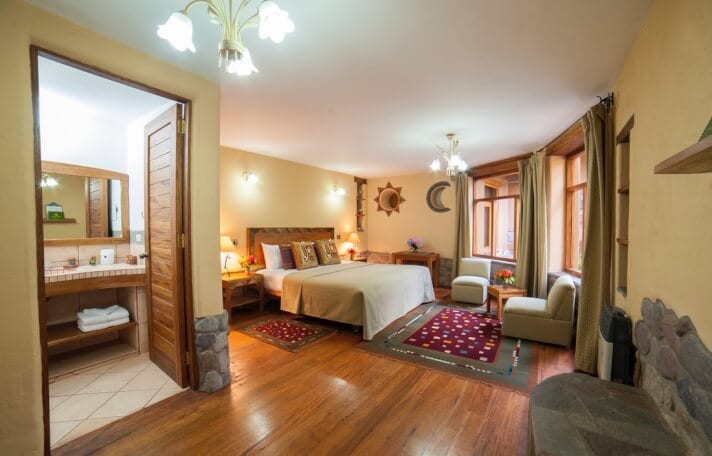 The spacious Luxury King room is perfect for couples. Enjoy views of the mountains and Willka T'ika's unique flowers and lucuma trees from the comfort of the charming seating area. Andean themes, Feng Shui principles, and local artwork inspire the room's design. Fresh-cut blossoms welcome guests and cozy hot-water bottles warm your bed at night.
Explore Machu Picchu and the Sacred Valley
Guided tours & hiking excursions are offered at spectacular ancient Incan sites including Machu Picchu, Saksaywayman, Moray Circles, Pisaq, Maras, Ollantaytambo & more. Zip lining, horseback riding, mountain biking and river rafting are nearby activities that can be arranged at Wilka T'ika.
Andean Rituals
Willka T'ika's guests enjoy participating in traditional sacred rituals offered by local healers to honor Pachamama, Mother Earth and the Apus, Mountain Spirits. Healing treatments can be requested on-site at Willka T'ika spa and Andean ceremonies can be booked with advance notice.
Andean Spa Services
Willka T'ika offers guests a full menu of optional therapeutic Andean Spa treatments, including massage, reflexology and facials. Crystal light therapy sessions and outdoor floral solar baths under the night skies are also available. Services may be scheduled individually by appointment once at Willka T'ika. We employ professional local therapists who have worked with us for decades.
Ayni with Local Community
For those who join our signature Magical Journey programs, we organize visits focusing on meaningful interaction and exchange or "ayni" with local Quechua communities, supported by our non-profit Willka T'ika Children's Fund. With advance notice, we arrange visits to local schools for an unforgettable heart-opening visit in high mountain regions.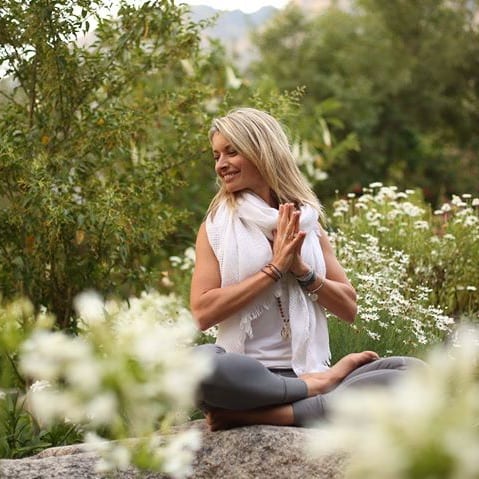 Seven Chakra Gardens
Each garden contains flowers, symbols, shapes, sculptures, and medicinal plants that resonate with one of yoga's classic seven chakras, or energy centers, of the human body. Meditate, do yoga, write, read, paint, mindfully walk or simply relax in the abundant beauty, and directly connect with Pachamama—Mother Earth. The Crown Chakra garden includes a 1000 year-old pre-Incan Lucuma tree, that is still fruit-bearing.
Yoga, Dance, and More
Two beautiful sunlit yoga studios with hardwood floors are fully equipped with mats, blankets, blocks and accessories. Both are heated and have sound systems, and are available to registered guests for personal practice when not in scheduled use. Private yoga instruction, depending on availability of local instructor, can be arranged for an additional fee.
Breathtaking Local Hikes
Willka T'ika is only a short hike from the spectacular Salt Mines of Maras as well as the Incan Chullpas Ruins. Ask for a delicious box lunch to take with you as you hike up the Sacred Valley and explore these magical sites. Walk or moto-taxi into the nearby town of Urubamba to visit local restaurants, a famous ceramics studio, and an alpaca wool factory outlet.
A Welcoming Retreat for All…
There is a place for everyone at Willka T'ika. One of our founding principles is the Quechua concept of ayni or reciprocity. Ayni roughly translates to "today for you, tomorrow for me," in other words our energy and fates are intertwined, dependent on each other. We apply this concept to our sustainability practices as well as to our guest experience. Within our gardens and grounds, there is a warm, hospitable, and inclusive atmosphere. Feeling safe and relaxed, you are invited to focus on self-care, deep healing and personal growth. We have had the pleasure of hosting individuals, couples, families, and groups from around the globe. Willka T'ika is the preferred destination for solo women travelers and LGBTQ+ singles and couples. Our owners personally welcome guests, host garden tours, join yoga classes, and drop in at dinner to chat and answer your questions. At Willka T'ika, make yourself at home and cultivate your holistic wellbeing.
STAFF: Dedicated professional Quechua staff, most of whom have been with Willka T'ika since its founding in 1995, offer exceptional attentive & caring service to guests.
CUISINE: Kitchen chefs serve delicious organic vegetarian cuisine, harvested daily from Willka T'ika's herb & vegetable gardens and greenhouses.
MATERIALS: Guest rooms and facilities are constructed of all-natural local materials, including local stone and adobe bricks. Willka T'ika's resident artist has decorated its walls with colorful Andean motifs.
SHARED SPACES: The main building includes a spacious living room with a fireplace, a bar and dining area overlooking the gardens. There are separate library and music rooms, each with fireplaces, ideal for quiet contemplation.
GARDENS & SPA SERVICES: Pathways wind through the renowned lush Seven Chakra Gardens to rooms & facilities, including our Andean spa, secluded solar baths, and crystal light therapy room.
YOGA STUDIOS: Two multi-purpose, state-of-the-art Yoga Studios are available to registered guests for personal practice when not in scheduled use.
WTCF STORE: All profits from our unique jewelry & local crafts store support our non-profit Willka Tika Children's Fund.
Address:
Paradero Rumichaka, Urubamba 08660, Cusco, Peru
Willka T'ika sits at the heart of the Sacred Valley of the Inka, in one of the earth's most energetically charged, culturally rich settings. Willka T'ika, meaning "sacred flower" in Quechua, is located at Paradero Rumichaka, 2 kilometers north of Urubamba, a 75-minute drive from the Cusco airport en route to Machu Picchu, and a 30-minute drive from Ollantaytambo train station and the trains to Machu Picchu.
What Our Guests Are Saying
Stunning Retreat Center in the Sacred Valley
Exquisite gardens, elegantly designed and spacious rooms, excellent food and incredible support with guides, staff, visits/ ceremony with a local shaman, and more.
Janice Gates
A Bit of Heaven on Earth.
Stepping through Willka Tika's gate was like entering Paradise.The Garden of Eden had nothing on this marvelous place.

Eleutherios
Magical Journey
The accommodations were excellent. the service was superb. the location and the gardens were magical.

Rama S
Words can never even get close...
…to how amazing this place is! Willka T'ika is the most healing and magnificent retreat space I have ever visited. There are no words that will ever accurately represent how remarkable this place is.
Brian C
The ultimate retreat destination!
An exceptional place where no detail has been overlooked. The staff is incredibly kind and discreet. The rooms are beautiful and comfortable.
Maelys D